What you need to know
The benefits and savings you've built up in USS belong to you, and there are things you should keep an eye on.
Receive a guaranteed income for life

in retirement with your Retirement Income Builder

You're still entitled to a one-off tax-free
cash lump sum

when you reach retirement

A dependant's pension

could support your
loved ones
Keep an eye on your benefits and savings in My USS
It takes minutes to register with your member number, or you can log in to your existing My USS account and:
Keep track of what you've built up, and see what you could get at retirement
Complete or update forms to let us know who you'd like to receive your benefits when you die
Update your details so we can keep in touch about your benefits and savings
View and manage any Investment Builder savings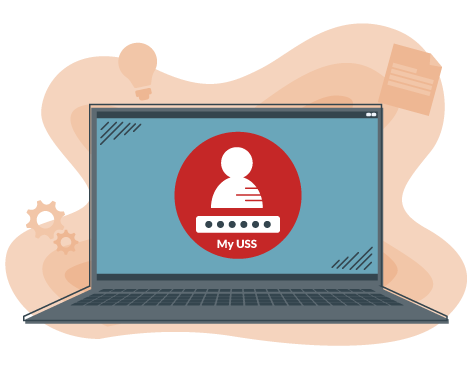 What happens now you've left USS?
If you've been paying into your USS pension for less than two years, you may be able to get a refund of your contributions. Visit our getting a refund page to find out whether or not you'll be entitled to this, and the benefits that'll be affected.
You may also have the option to transfer your USS pension into another HMRC-registered scheme, like a personal pension or your new workplace pension scheme.
Before you transfer your USS benefits out, it's worth considering what you'll be transferring out and whether it's right for you. You may need to take independent financial advice first. Visit transferring to another scheme to find out more.
You can also choose to keep your benefits within USS until your retirement date; this will happen unless you decide to transfer or take a refund (if eligible).
Our your pension after leaving page can provide you with more information about what happens to your benefits and savings with USS once you're no longer paying in.
See how your USS benefits could grow
Your Retirement Income Builder (defined benefit) savings provide you with a guaranteed income for life when you retire and you may have the option to take some as a one-off, tax-free cash lump sum.
Even when you stop paying in, these savings increase every April in line with inflation, subject to certain caps.
If you have Investment Builder (defined contribution) savings, you'll also have a savings pot that you can use in a number of flexible ways to suit you.
You'll find the value of your benefits and any savings in My USS or on your leaver statement. Use the Benefit calculator in My USS to see what they could be when you reach your Normal Pension Age (NPA).

Take a look through the sections below to help you get to grips with everything:
Useful for you
Bust the pensions jargon

Planning for your future's tough enough without industry phrases getting in the way. Check out some of the most common.

Leaving USS

This session covers topics that anyone who has left or is thinking about leaving USS before retirement may find useful.

Get to grips with your hybrid pension

Hear Pete Wallwork, Head of Proposition at USS, discuss the features of your hybrid scheme, how the two parts work together and the different ways the Investment Builder could work for you in our latest podcast.
Guidance throughout your journey to retirement

Sign up to attend a free live webinar or catch up on a recorded event. You can find out about everything from leaving USS, understanding DC savings like those you might have built up in the Investment Builder, planning for retirement and more.