When saving with us, you aren't just putting money towards a standard pension, you're saving towards much more than that – from the security of a regular retirement income to tax-free cash options and life cover that will look after your loved ones, should anything happen to you.
We've put together some examples to show the impact of the first April 2019 contribution increase on your take home pay. For many members the impact may be minimal as the government are set to increase both the personal allowance and national insurance tax bands in April too. Some members may even be better off than they are now.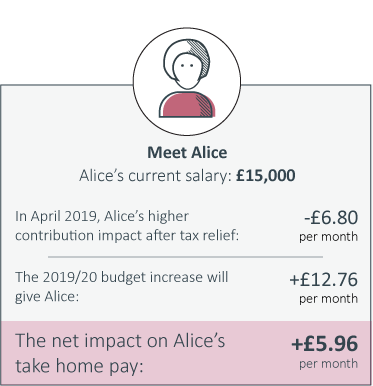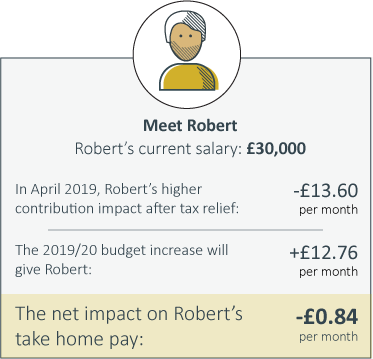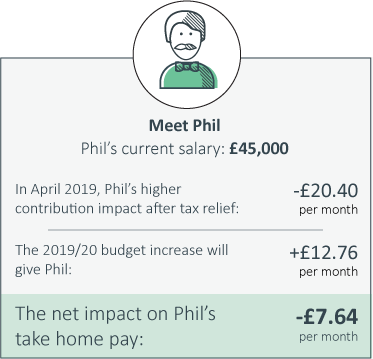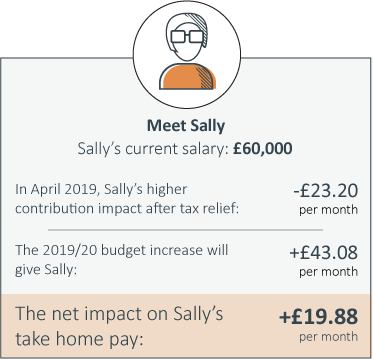 These examples are based on members employed in England, Wales and Northern Ireland who are paying contributions through salary sacrifice*. The impact on take home pay could be slightly different for those who don't use salary sacrifice, or those employed in Scotland. These impacts can be found in our full tables of examples.
There will be two further increases to your, and your employer's, contributions currently planned under cost-sharing. These will happen from 1 October 2019 and 1 April 2020. However, we hope an alternative way forward will be agreed before the significantly higher cost-sharing increases come into effect.
How do other options compare?
Having to pay a little more each month might feel daunting, but we believe being a member of USS is good value compared to choosing your own private pension and life cover, or saving into an ISA.
For example, if you're age 45 earning £45,000, the life cover you would receive with USS is a sum of three times your salary. That's £135,000 that would be paid to your beneficiaries should you die whilst paying into USS. If you were to buy alternative life cover elsewhere, it would cost you around £16 per month** until you retire, let's say for 20 years.
And with USS, there's a range of other benefits that come alongside this, such as:
A pension that will be payable to your spouse, civil partner or other financial dependent for life should you die whilst paying in to USS, which is usually around half what your pension would have been. Additional pension may also be payable to any eligible children;
Ill health cover which may allow you to take your benefits early due to ill health; and
You'll still be building up your retirement savings at the same time, plus the many other benefits alongside this that make saving with us worthwhile.
With ISAs, any payments into an ISA don't receive income tax relief, which means your pension can be a more tax efficient way to save for the future.
And on top of this, you'll also benefit from your employers contributions too.
We know that whilst the impact on your take home pay could be minimal, we all have commitments and priorities that could make paying even a little more towards your pension tricky.
For those that do see an impact, it's important to still keep your future retirement in mind. Retirement is a big chapter in your life that everyone needs to save for, and the more you save now, the longer your savings have to grow.
You'll have peace of mind that you're saving towards the retirement you want and looking after your loved ones too.
Resources
*If you aren't sure whether you pay your contributions through salary sacrifice, speak to your employer.
**Source: Go Compare. Quote comparisons are based on Life Level Term quotation for a Dr born 03 February 1973 (age 45, non-smoker). Cover amount: £135,000. Policy length: 20 years. Cover type: stay the same (doesn't decrease in line with outstanding balance on standard mortgage repayment). No critical illness cover.
For a glossary of our terms please see more information on our key names and important information page.
---
Published: 16 January 2019