What is the Investment Builder?
It's the defined contribution section of USS that works like a flexible savings pot. Your money is invested in funds and the final value of your savings will be based on how much has been paid in and how those investments have performed. These funds can be taken as early as age 55*, without the need to retire.
The Investment Builder works alongside the Retirement Income Builder, but they are quite different. The Retirement Income Builder gives you a guaranteed income for life and a one-off, cash lump sum based on your salary and years of service. You'll also need to retire to access your Retirement Income Builder benefits, usually at the Normal Pension Age (which aligns with the State Pension age and is currently 66).
A great way to save for the future
With the Investment Builder you benefit from tax relief on what you contribute and the skills of industry experts who manage your investments, the cost of which is covered by your employer.** This makes it a great place to save your money long term, but also a place where you can still access those savings as early as 55*, with a range of options of what you can then do.
What can you do with your Investment Builder?
As long as you're 55* or over you can choose when and how you start taking your money.
You could: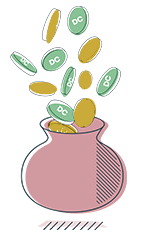 take your savings as tax-free cash (subject to limits).
leave them invested, and withdraw up to four cash payments each year without having to retire.
use it to provide you with a guaranteed pension income by purchasing an annuity. You can do this alongside taking your pension from the Retirement Income Builder, to boost the income you'll get when you retire.
move your Investment Builder savings to a drawdown product, where you can take money from it as and when you need, while it's still invested.
Find out more on our using your Investment Builder pot page.
Are all members in the Investment Builder?
No, all members build benefits in the Retirement Income Builder. To save in the Investment Builder you either need to make additional contributions, have transferred money in from another pension scheme or earn over the salary threshold.
Four things you should do when you have savings in the Investment Builder
Guidance and advice
Before making any decisions about what to do with your USS benefits, we recommend that you seek guidance and/or take financial advice. Visit the guidance and financial advice page to find resources to support your planning and information on how to find a financial adviser.
*Rising to 57 in 2028
**Your employer currently covers the cost of things like admin and managing your investments. So, in most cases, you won't need to pay a thing towards these costs (although you'll still need to pay management charges if you're transferring a pension from another scheme or if you invest in certain funds).
Set your communications preferences

Remember to log in to My USS to set your preferences and stay up to date.