Thinking about your future?
Our Retirement Planning Tool can help you understand your options and guide you through the decisions you'll need to make to plan ahead.
It won't provide personalised figures, but it'll help you think about what you'll need and help you understand how and when you can take your benefits and savings. If you want to find out how much you could get in the future, use our Benefit Calculator in My USS.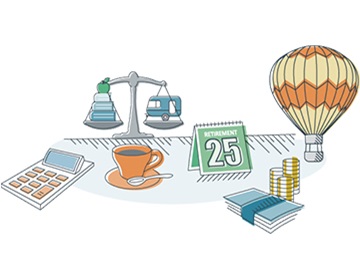 Use it if you're:
thinking about your future and want to explore your options
approaching retirement and want to see how you can take your benefits and savings
curious about what you get with USS and what your options are
Throughout the tool you'll find useful resources for further reading on topics based on your decisions.
For the best experience, we recommend using Google Chrome, Apple Safari or Microsoft Edge.
Watch our planning for retirement video too, for four easy steps to help you plan for your future.
Once you've used the tool, please take two minutes to complete our short survey to let us know how useful you found it and how we could improve it.
We can't give you advice on what option is best for you, but our tool will help you understand your options and plan for your future. Everyone's circumstances are different so it's important to seek financial advice if you'd like further support or aren't quite sure what's best for you.
This tool is useful for everyone considering normal, early, late or flexible retirement. It won't be right for those looking to retire early due to ill health or redundancy. Visit our retiring page for more information on these.
As this guide is focused on retirement, it doesn't cover your options when taking your Investment Builder savings independently, before or after you retire. Read about cash payments, if you want to take some or all of your Investment Builder savings before or after you retire.
For important information on this guidance please see our key names and important information page.