18 October 2022
How USS provides ethical investment options
People are more interested in how their investments are influencing the world around us than ever before, and USS believes it's important to give members the opportunity to invest in line with their values. To coincide with the update to the scheme's Ethical Guidelines (for savings in the Investment Builder), Dean Blower, Head of Strategy & Insight, and Aleck Johnston, Head of DC Investment Product, write about how USS provides its members with ethical investment options.
What is the difference between responsible and ethical investment?
USS is a responsible investor and all of the funds we manage are invested with a view to providing secure pensions to our members over a long time horizon. This means that we think very carefully about the financial risks around all our investments, including ESG (environmental, social and governance) issues and, in particular, the impacts of climate change. We have set out our ambition (and interim targets) for our investments to be Net Zero for carbon generating by 2050, if not before – and recently published our latest Task Force on Climate-related Financial Disclosures (TCFD) report, which outlines actions and progress.
More generally we integrate material ESG factors into our investment decisions and engage with companies in which we invest to encourage them to address any issues or opportunities for improvement. We recently published our latest Stewardship Code Report, which sets out our approach.
However, we appreciate that, across society, ethical (and religious) beliefs are hugely important. They can be intensely personal and part of our identity. For example, people might not want to invest in companies that extract fossil fuels, provide gambling services, or engage in animal testing for cosmetics – regardless of whether they are profitable.
Our primary duty as trustee is to invest in the best financial interests of our members. We can only take non-financial, or ethical, factors into account where they do not pose a risk of financial detriment to the scheme and we have good reason to think that the scheme's members share each other's views about a particular issue.
This directs our approach to managing the investments in the Retirement Income Builder (the DB part) and our default investment option within the Investment Builder (the DC part).
But within the Investment Builder, members can express individual choice, and we can reflect these ethical views in the options we provide.
How do we decide what ethical options we offer?
The Ethical Guidelines, which underpin the ethical options available in the Investment Builder, are designed to reflect our members' ethical preferences. Everyone's own ethics are personal, and it's not feasible for us to offer members the ability to choose exactly how their funds are invested. But we put a lot of effort into understanding our members' views. Between late 2020 and 2021 we did some research, in collaboration with Maastricht University, on members' attitudes to responsible and ethical investment – including a survey of 4,000 active members. As part of this, we asked members how interested they were in ethical investment options and which sectors they would prefer to exclude from their investments. The results from this survey helped us review and update the guidelines. Whilst overall feedback confirmed that members liked the approach we were taking, there were a few areas where we have made changes, to strengthen or weaken exclusions of some activities or seek to invest positively to achieve ethical goals, such as achieving Net Zero.
Survey question: In your opinion, should all companies involved in the following industries be excluded from your pension fund's investments?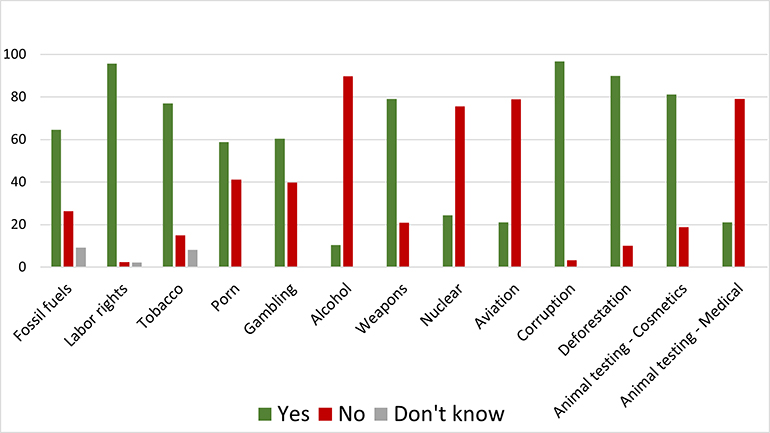 What ethical options can USS members choose?
We currently provide members who have Investment Builder pots – that's the majority of members paying in since April 2022 – with a choice of two ethical options. The Ethical Lifestyle Option reduces investment risk automatically as members approach their Target Retirement Age. This is aimed at those members who want to invest in line with our Ethical Guidelines but want USS to manage their investments for them. We also have an Ethical Equity Fund, which uses the same guidelines but invests exclusively in stocks and shares from across the globe. This is aimed at members who are comfortable taking a bit more control over their Investment Builder savings. Members can also choose from a range of options that do not follow the Ethical Guidelines, if they prefer, or just remain in the scheme's default fund. If members are interested in learning more about their options, they can visit choosing your investments.
How do we implement them?
We require the underlying investment managers in the ethical investment options to adhere to the Ethical Guidelines, where practicable. In practice this means appointing and monitoring the most appropriate investment managers to deliver on the objectives that we set. More information about how this process works with one of those underlying investment managers, Columbia Threadneedle (previously named BMO), can be found in the following podcast.
In response to the latest member survey and subsequent review of the Ethical Guidelines, we have been working with our underlying investment managers to ensure they will be able to continue to meet the requirements. We are also working on some exciting new opportunities in the ethical investment options and we hope to bring you more on these as they develops.
Will we offer different ethical options in the future?
We're aware that views on investment are evolving rapidly across our membership and across society. We look to keep up to speed with these changes through regular surveys and other member engagement. In the future, it's possible that we could offer different, distinct ethical options – such as a climate change fund, for example. But for now, we want to focus on raising awareness of our existing ethical options, as many members don't yet know they have these choices.
This is an important issue and we will continue to ask for and listen to members' feedback.